Expertise
EFFET PASSEMENTERIES: FRENCH EXPERTISE APPRECIATED
ACROSS THE CONTINENTS


French Design & Manufacturing fully made in France
It's our ancestral heritage and contemporary foothold in the fashion world that drive our passion.
Our expertise stems from our precious heritage of a production on old wooden looms and the development of new products using up-to-the-minute technology.
Materials, colours, references...
A never-ending source of inspiration.
Our expertise adapts itself to all styles and trends. It draws its resources from the diversity of the materials used: cotton, viscose, silk, polyester, polyamide, acrylic, mohair, raffia, linen, jute, elastic offering endless possibilities with the colour ranges.

Flexibility and adaptation
Thanks to our expertise, effet passementeries represents:
- more than 14,000 references, most of them available in numerous materials and different sizes, divided into 5 types of manufacture
- a material and colour chart updated to stay on trend and abreast with the changes in techniques and materials
- the willingness and ability to innovate, to adapt our production tools in order to develop tailor-made solutions
- the respect and preservation of a unique industrial heritage
Machinery and nimble fingers
Machinery
All the key steps from the design to the execution of a model:
Product definition with our customers :
From our 14,000 product articles or development of a tailor-made item.
Mechanical production:
- Choice of materials and colours (quilling, coning, assemblage) and preparation of yarns
- Selection among the 300 machines: Tricotine, twisting mill, modern and old braider, digital crochet machine and loom
Setting up and programming of designs:
- Setting and assembly
- Customer validation of final model
- Production start-up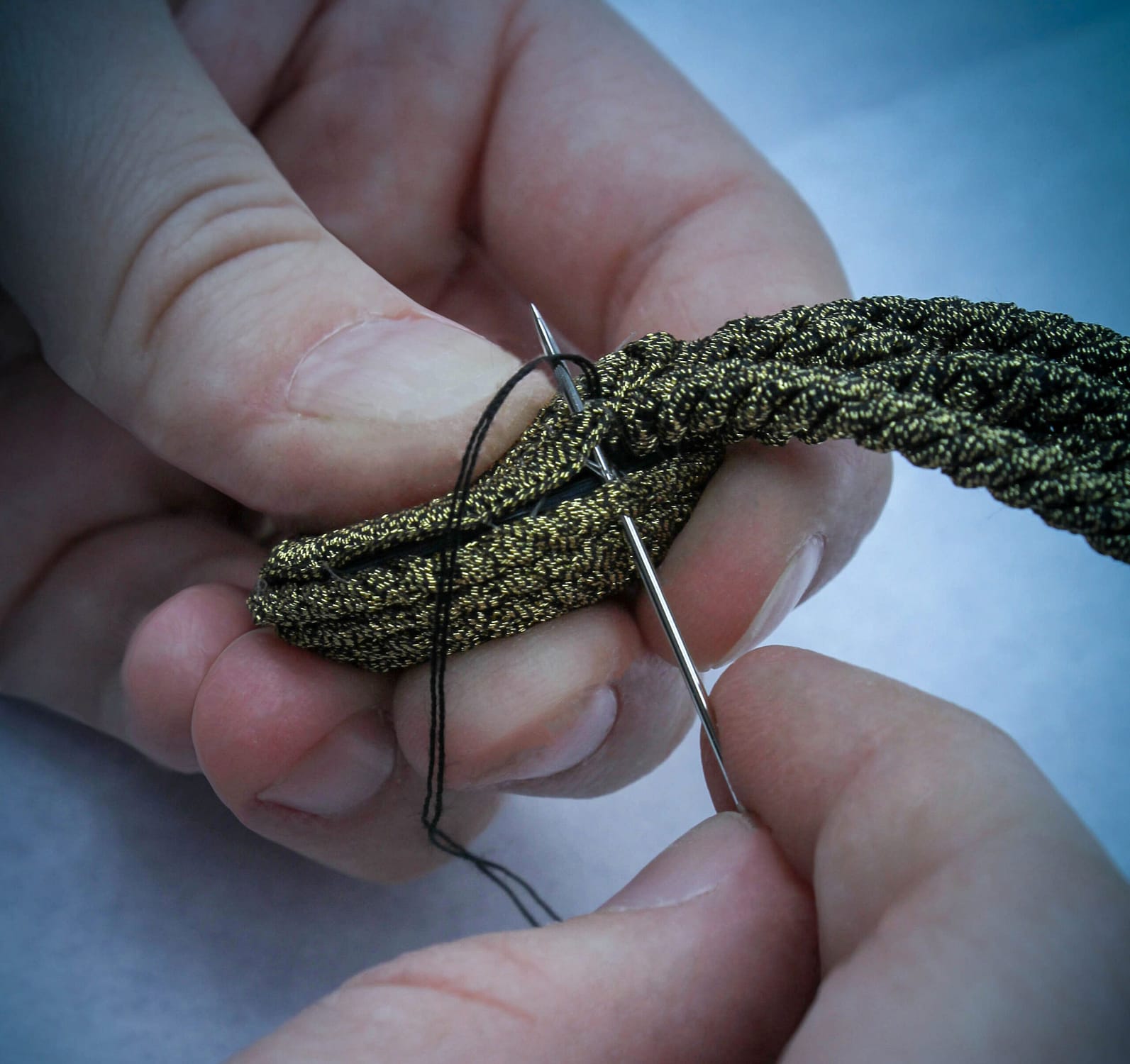 This handcrafting expertise has been passed on and updated over the generations.
Cords, soutaches, princesses, tricotines... are assembled in no time in our workshops to become brandebourgs, tassels, macarons... wherever your imagination takes you.